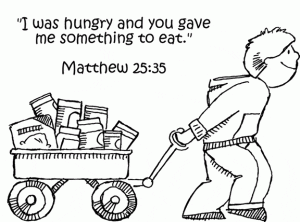 Each January the SJN community comes together to shelter homeless people in our facility for one week.  The shelter is a part of the Fairfax County's hypothermia prevention program. Our goal is to provide a warm, safe shelter, meals and companionship for our guests, who arrive each evening and leave in the early morning.
Three local faith communities Saint Mark, Saint Thomas à Becket and Congregation Beth Emeth partner with us to make this week a reality.
We also involve the children enrolled in our Religious Education by having them create colorful placemats to help create an inviting dining experience.
A variety of ministries within the parish put their culinary skills to good use by creating meals each evening.
While our guests are here we serve them a hardy dinner often followed by entertainment. One of the favorite activities is Bingo!  Upon awakening each morning they are treated to breakfast and provided with the opportunity to prepare a bag lunch.  We host a store, without price tags, to help with any clothing needs our guests may have. We usually have someone bring in a sewing machine to help with anything that needs a stitch or two.
We are often asked where our guests spend their days. Some of our guests go to work.   Some go to the Reston Drop-In Center, where guests with mental health or other issues can relax.  Many of them go to the Lamb Center in Fairfax, a faith-based day shelter where they can receive services, fellowship, and food.
We will need donations of food, clothing, casserole dinners, miscellaneous supplies, gift cards for local fast food restaurants as well as many volunteers to help host the shelter. Cash donations are always welcome as these allow us to purchase bus passes for our guests as well as items that do not get donated.
It takes many volunteers to make this week a possibility. In mid-December,  you will begin to see information in our weekly bulletin and on this web page regarding exactly what help we need an how you can volunteer.
If you would like further information please email sjnhypo@gmail.com.