All in-person events are subject to change during the COVID-19 pandemic.
Todas las actividades en persona están sujeto a cambios durante la pandemia de COVID-19.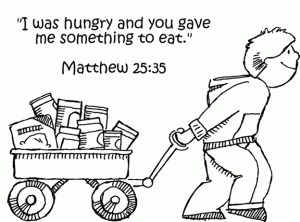 Each January, the SJN community comes together to shelter people who are homeless in our facility for one week as part of the Fairfax County's hypothermia prevention program. Our goal is to provide a warm and safe shelter, meals, and companionship for our guests who arrive each evening and leave in the morning
Three local faith communities — St. Mark, St. Thomas à Becket, and Congregation Beth Emeth — partner with us to make this week a reality. The nonprofit organization FACETS (Fairfax Area Christian Emergency and Transition Services) provides at least one on-site professional at all times.
A variety of ministries within the parish put their culinary skills to good use by creating meals each evening. We also involve the children enrolled in SJN Faith Formation, who make colorful placemats to help create an inviting dining experience.
While our guests are here, we serve them a hearty dinner often followed by musical entertainment. Our guests also enjoy Bingo, Dominoes, therapy dogs, foot baths, and haircuts. We host a store, without price tags, to help with any clothing needs our guests may have. We usually have someone bring in a sewing machine to help with anything that needs a stitch or two. Upon awakening each morning, guests are treated to breakfast and can prepare a bag lunch.
We are often asked where our guests spend their days. Some of our guests go to work. Many of them go to the Lamb Center in Fairfax, a faith-based day shelter where they can receive services, fellowship, and food.
We will need donations of food, clothing, casserole dinners, and miscellaneous supplies as well as many volunteers to help host the shelter. Cash donations are always welcome as these allow us to purchase bus passes and to provide for the specific needs of individual guests.
It takes many volunteers to make this week a possibility. Starting in December, look for information in the weekly bulletin and on this webpage about exactly what help we need and how you can volunteer.
For more information, please email sjnhypo@gmail.com.
Update for 2020-2021
This season we will participate from Jan. 17-24, 2021, but this year's program will look very different from that of years past.
SJN and its faith partners will be supporting Fairfax County's Hypothermia Prevention Response at both the FACETS and New Hope Housing sites. There will be about 60 guests at each location, and the shelters will be open 24/7. The nonprofits will staff the shelters, but they are asking participating faith communities to provide meals and supplies.
Please consider donating so that we can purchase the necessary items. We will be providing 21 meals for about 120 guests plus staff, so the need is great. We will also need to purchase clothing and supplies. Finally, if free bus service is no longer available, we would like to be able to assist with tokens and gas cards.
How to donate:
Bring cash or check donations (write "hypothermia" in the memo line) at the parish office or in the collection basket
Donate online (select "Social Action Hypothermia" as the fund)
Volunteer opportunities will be published in the bulletin as we find out what is needed. No volunteers will work at either of the sites, but we will need people to assemble and deliver meals.
Anyone who has participated in our program (and we have about 4,000 volunteer hours each year) knows that providing food and shelter is only a part of our ministry. We engage with our guests and listen attentively. Although we will not be able to welcome our guests to our church this year, we plan to be as creative as possible to show them how much we care.