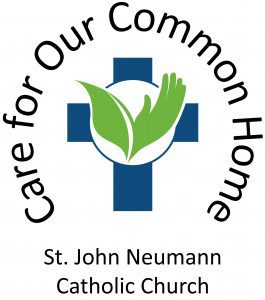 About Care for Our Common Home
In response to the Church's moral call for action, the SJN Care for Our Common Home ministry seeks to better understand the interconnectedness of all of God's creation and to act in solidarity with vulnerable populations around the world and for the benefit of future generations. We strive to share Church teaching on care for creation, reduce our carbon footprint as a parish, and provide resources and encouragement so that all parishioners can live in a more sustainable manner as faithful stewards of creation.
The ministry meets at 7 p.m. on the second Tuesday of the month for prayer, education, and action planning. See the parish calendar for the room number. For more information, Please email saintjn.cch@gmail.com.
Upcoming CCH Events
Annual Fair Trade Sale
November 25-26, 2023
The Fair Trade Sale will be in the Brown-McCarthy Auditorium after all Masses (and throughout the day on Sunday) over Thanksgiving weekend, November 25 and 26.
Purchasing hand-made, high-quality, Fair Trade products empower those living in poverty to change their lives and their communities. The Fair Trade sale offers many great gifts that are fair for people and the planet.
St. John Neumann is a faith partner with Fair Trade Winds and receives 10% of all purchases.