The SJN Care for Our Common Home Ministry works to promote the Church's rich social teaching on care for creation in all relevant aspects of parish life, including worship, faith formation, social ministry, and facilities management.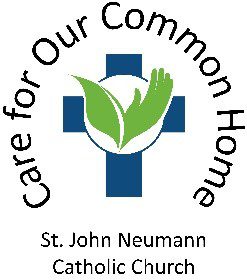 In response to the Church's moral call for action, we seek to better understand the interconnectedness of all of God's creation and to act in solidarity with vulnerable populations around the world and for the benefit of future generations. We strive to share Church teaching on care for creation, reduce our carbon footprint as a parish, and provide resources and encouragement so that all parishioners can live in a more sustainable manner as faithful stewards of creation.
Our ministry began in 2016, inspired by the message of Pope Francis's 2015 encyclical, Laudato Si': On Care for Our Common Home. We are a founding member of the Care for Creation Network of the Catholic Diocese of Arlington.
Click here to visit the Care for Our Common Home website.
We meet at 7 PM on the second Tuesday of the month for prayer, education, and action planning. See the parish calendar for the room number. All are welcome!
For more information, email us at saintjn.cch@gmail.com.