HEALING DIVISION: EXPLORING ISSUES OF RACIAL JUSTICE
IN OUR SOCIETY AND OUR CHURCH
Racism is evil because it attacks the inherent dignity of the human person, created in the image and likeness of God. The persistence of racism demands our attention now. Racism emerges in the actions and inactions of individuals; and it is embedded in our institutions and public policies. Our faith calls us both to personal conversion and to transformation of our society.  – U.S. Conference of Catholic Bishops (2020)
Starting in January 2020, St. John Neumann's Director of Outreach Jo-Ann Duggan and a group of parishioners from JustFaith and Pax Christi* have been talking about ways to bring the issue of racial justice to the fore at our parish. The group planned a talk, "The Virus of Racism," for the Lenten Soup Supper series; the JustFaith facilitators explored offering an eight-week module, "Faith and Racial Equity," at the parish; and the Pax Christi group decided to study together Fr. Bryan Massingale's book, Racial Justice and the Catholic Church, and the 2018 pastoral letter on racism from the U.S. Bishops, "Open Wide Our Hearts."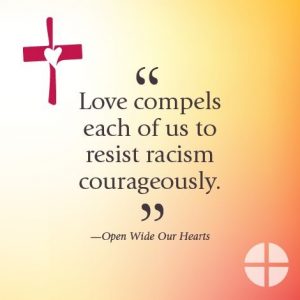 Subsequently, the pandemic shutdown interrupted activities at the parish and everywhere else, and the issue of racial justice took on even greater urgency, with the killings of Ahmaud Arbery, Breonna Taylor, and George Floyd and the nationwide protests that followed. As a result, members of the planning group decided to combine their efforts and offer the parish an expanded program to begin this fall, "Healing Division: Exploring Issues of Racial Justice in Our Society and Our Church."
The program will have three main components. The first is an open-ended set of experiences, including films, talks, occasional field trips, and discussions. Everyone in the parish is welcome to participate in whatever experiences fit their schedules and interests, without having to commit to the whole series. We plan to kick off this series with a showing of the film Just Mercy on September 11, to be followed two weeks later by the talk we had to postpone in March, "The Virus of Racism." Other experiences will continue in the fall and, after a winter break, will resume during Lent.
The second component is a set of eight-week study, discussion, and action modules using materials from JustFaith Ministries, the U.S. Catholic Bishops, and others. Everyone in the parish is welcome to participate in these modules as well, but participants will be asked to commit to the entire eight weeks of whatever modules they sign up for. We plan to kick off this series with the "Faith and Racial Equity" module from JustFaith, starting on September 12. A second eight-week module will begin in January, and a third in April.
The third component is the formation of a new Racial Justice Ministry at St. John Neumann. That ministry will plan events for the first two components of the overall program, and it will take on other initiatives over time, such as advocacy, liaison with other ministries in the parish, and ecumenical/ interfaith engagement.
Please watch the bulletin for announcements on upcoming events. Contact Jo-Ann Duggan (jduggan@saintjn.org) for further information.
*Tom and Michele Costello and John and Pam Dister (JustFaith) and Bob More (Pax Christi).
---
Upcoming Events:
The SJN Racial Justice Ministry invites you to participate in "Faith and Racial Equity: Exploring Power and Privilege," an eight-week formation program from JustFaith Ministries. Presented through the lens of the Christian faith, the program invites participants to engage in conversations about race and racism in our world today; encourages honest dialogue about power and privilege and how they contribute to racial disparities; and provides an opportunity to discern practical action steps toward working for racial equity. The course will begin on September 12 and continue through November 4. Sessions will be held via Zoom. If there's sufficient interest, we may have one daytime group and one evening group. To sign up, contact Tom and Michele Costello, mgc742@hotmail.com.