Knights of Columbus Family of Man Council #7566  is an organization of Catholic men and their families who support the SJN parish community.
They are dedicated to promoting the concepts of charity, unity, fraternity, and patriotism.
For further information please follow the link:  http://www.kofc7566.us/
***
Knights of Columbus April Family of the Month: The Walsh Family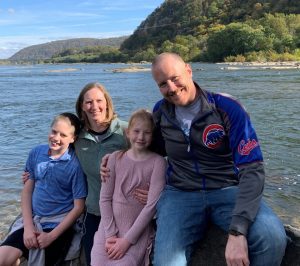 Ed Walsh has been a parishioner at SJN for 15 years. He joined his college council of Knights at William & Mary in 1999 and transferred into the Family of Man Council upon moving to Reston in 2006. We want to recognize Ed for preparing a superb St. Patrick's feast for our Council's March social. It provided his Brothers with what has been a rare opportunity to share good food and good company over the last year.
Ed is a past Grand Knight and has been a catechist in the Faith Formation program for seven years. He has also served as a porter at 9:30 a.m. Mass since the church re-opened for worship in June. His wife, Claire, has also served as a catechist, volunteered with the Mothers' Group and Social Justice ministries, and is a member of the Contemporary Choir. Recently, she has sewn and donated 500 masks, many for SJN parishioners.
Their children, Anna and Sean, are enrolled in Faith Formation and love coming to the Knights' charity breakfasts.
We are grateful for the service of such an exemplary Catholic family. Our congratulations and best wishes to the Walsh family!