Middle School Faith Formation
Rooted is the Middle School Faith Formation program at St. John Neumann parish. Rooted takes a different approach to Faith Formation and consists of a series of sessions which follow a retreat model focused on providing an engaging and meaningful experience. The Rooted year consists of seven two-and-a-half-hour sessions and two longer "retreat" days. Through these sessions, sixth, seventh, and eighth graders participate in learning, fellowship, service, prayer, and fun; with a focus on becoming more ROOTED in their Catholic faith.
Please contact Angela Davis (adavis@saintjn.org) if you have any questions.
Looking for information regarding Rooted-In-Service (our fundraising efforts to support our service projects)? – CLICK HERE!
Looking for information regarding Branching Out (SJN's Middle School Youth Ministry)? – CLICK HERE!
Looking for information regarding Teen Confirmation at SJN? – CLICK HERE!
.
We are looking forward to the 2020/2021 Rooted year!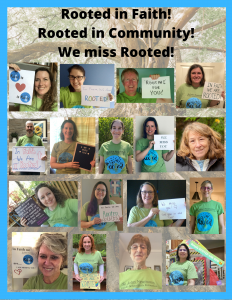 We are in need of many more volunteers to join our Rooted volunteer team this year. There are many different commitment levels and skill sets needed, we need YOUR help! See below for more information!
It is time to register your youth for this coming Rooted year. We are aware that accomodations may need to be made based on continued social distancing recommendations and we will keep families informed as decisions are made. However, it is very important to register as soon as possible as this will help us to better know how to adapt in the Fall. Please see below for more information on how to register.
---
Registering Your Child for the 2020/2021 Rooted Year

Registration is required for Rooted. Registration is on-line and on-line registration closed August 14, so please register today! You can
REGISTER HERE
!
.
Here are the dates for the 2020/2021 Rooted year based on session. You can also find this in a calendar format by clicking on
THIS LINK
.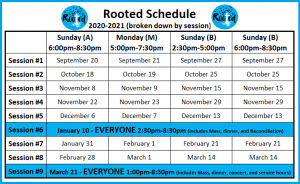 .
---
Volunteering with Rooted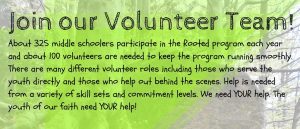 We need MANY volunteers to keep Rooted running smoothly. There are many different times and roles that volunteers are needed for. Please see the session schedules (found above) and the information here to help determine what role / session would be best for you.
Click here for more information regarding Rooted volunteer roles.
Click here to sign up to be a Rooted volunteer!
---
New Parent Orientation
Signup for an Orientation time here!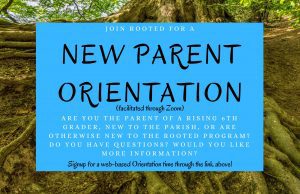 .
---
Important Information and Links
---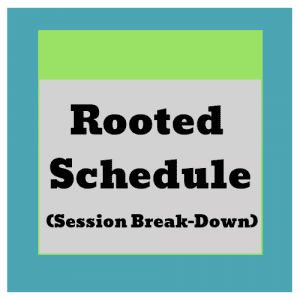 Check out a list of dates and times for each of the Rooted session options for the 2019/2020 year.