Middle School Youth Ministry
Branching Out is the Middle School Youth Ministry program at St. John Neumann parish. Branching Out aims to provide a number of opportunities for 6th, 7th, and 8th graders to engage in service-oriented, social, and faith-growing experiences to complement the Rooted program. As we become more ROOTED in our faith, we are called to BRANCH OUT as Christ's hands in the world around us.
Please contact Angela Davis (adavis@saintjn.org) if you have any questions.
Looking for information regarding Rooted (SJN's Middle School Faith Formation Program)? – CLICK HERE!
Looking for information regarding Teen Confirmation at SJN? – CLICK HERE!
---
Calendar at a Glance:
This list is updated regularly so please check back often! More information can be found below.
REGISTRATION DATES:
On-going – EDGE CAMP – Registration is open!
January – Registration begins for Branching Out Week!

February 26 – LAST DAY TO REGISTER FOR

EDGE CAMP!
March/April – Registration begins for Girls Group, Boys Group, and Running Club!
May/June – Registration begins for individual Youth Nights!
EVENT DATES:
Early June – Girls Group and Boys Group begin (will then meet about twice per month on-going)
Mid June – Running Club begins (will then meet regularly)
June – Youth Nights begin (there will be a series of Youth Nights throughout the Summer)
July 19-23 – Branching Out Week
August 1-7 – EDGE CAMP
---
UPCOMING EVENTS AND INFORMATION:
---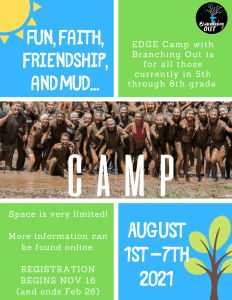 EDGE CAMP
Info about Edge Camp (a LifeTeen ministry)…
Dates: Aug 1-7, 2021
Registration period: Nov 16 (2020) through Feb 26, 2021
Cost: $800

$100 due at the time of registration
$550 (total) due by Feb 26
$800 (total) due by May 1

Who: All CURRENT 5th-8th graders who are members of SJN. Space may be available for non-SJN parishioners upon request.
Location: Dahlonega, GA
Transportation: We will drive down in rented vehicles (this cost is included in the price).
Chaperones and drivers may still be needed depending on our numbers. Please contact Angela (
adavis@saintjn.org
) if you would like to help!
Parents,
CLICK HERE
to register your youth on or after Nov 16.
Coming Soon: More information on other upcoming events and opportunities!
---
Check out these videos from past Branching Out events:
---
Trampoline Overnight Lock-In – February 2020
Laser Tag Overnight Lock-In – November 2019
DAY OFF – October 2019
---
Other Important Information and Links:
---

Branching Out T-Shirts
Branching Out t-shirts are on sale for $10. At most off-site Branching Out events, all participants will be required to wear a Branching Out t-shirt to assist with better supervision and accountability. Participants in those events may purchase one to own or may choose to borrow one for the event. Shirts can be purchased during Rooted sessions or any other time that staff is available in the Faith Formation Office.

2020/2021 Calendar
The 2020/2021 Branching Out Calendar is currently in progress. Please check back soon to get these don't-want-to-miss events on your calendar!