Middle School Youth Ministry
Branching Out is the Middle School Youth Ministry program at St. John Neumann parish. Branching Out aims to provide a number of opportunities for 6th, 7th, and 8th graders to engage in service-oriented, social, and faith-growing experiences to complement the Rooted program. As we become more ROOTED in our faith, we are called to BRANCH OUT as Christ's hands in the world around us.
Please contact Angela Davis (adavis@saintjn.org) if you have any questions.
Looking for information regarding Rooted (SJN's Middle School Faith Formation Program)? – CLICK HERE!
Looking for information regarding Teen Confirmation at SJN? – CLICK HERE!
---
UPCOMING EVENTS AND INFORMATION:
---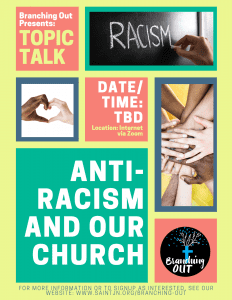 Branching Out Presents: Topic Talk – On Anti-Racism and Our Church
Let us know
if your child would be interested in this event and we will schedule the date/time once we have a group established (late October). Depending on the group's needs, this discussion can take place in-person (with masks and distancing) or virtually.
---
Trunk or Treat Volunteering
---
Thanksgiving Baskets
The SJN High School Youth Ministry has invited the 6th-8th graders to participate in their Thanksgiving service event! (Please be aware that there is Rooted scheduled for the Sunday B group during the evening time slot.) Email Eric Munoz (
emunoz@saintjn.org
) with any questions.
---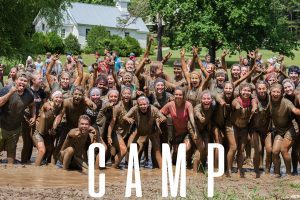 Edge Summer Camp
In the summer of 2021, Branching Out will take a group of rising 6th through 9th graders to Georgia for a week of Catholic summer camp full of fun, faith, mud, adventure, and more fun! Registration will begin sometime in November, so stay tuned for more information and get ready to camp! This camp is run through Life Teen. Check out their camp website or this promotional video!
---
Check out these videos from our recent Branching Out events:
---
Trampoline Overnight Lock-In – February 2020
Laser Tag Overnight Lock-In – November 2019
DAY OFF – October 2019
---
Other Important Information and Links:
---

Branching Out T-Shirts
Branching Out t-shirts are on sale for $10. At most off-site Branching Out events, all participants will be required to wear a Branching Out t-shirt to assist with better supervision and accountability. Participants in those events may purchase one to own or may choose to borrow one for the event. Shirts can be purchased during Rooted sessions or any other time that staff is available in the Faith Formation Office.

2020/2021 Calendar
The 2020/2021 Branching Out Calendar is currently in progress. Please check back soon to get these don't-want-to-miss events on your calendar!