Middle School Youth Ministry
Branching Out is the Middle School Youth Ministry program at St. John Neumann parish. Branching Out aims to provide a number of opportunities for (rising) 6th, 7th, and 8th graders to engage in service-oriented, social, and faith-growing experiences to complement the Rooted program. As we become more ROOTED in our faith, we are called to BRANCH OUT as Christ's hands in the world around us.
Please contact Angela Davis (adavis@saintjn.org) if you have any questions.
Related Links
Rooted (SJN's Middle School Faith Formation Program)?
Rooted-In-Service (our fundraising efforts to support our service projects)
---
ADULT VOLUNTEERS NEEDED
We are in need of adult chaperones and other volunteers for many of our Branching Out events and groups. Please consider volunteering! Email Angela Davis (
adavis@saintjn.org
) to discuss!
---
Calendar at a Glance:
This list is updated regularly so please check back often! Scroll down to register and for more information on these events. Hope to see you there!
BOYS GROUP – Next meeting is December 1, 6:00pm-7:30pm
PAINT NIGHT – December 2, 6:00pm-8:00pm
GIRLS GROUP – Upcoming Meetings:
Tuesday Group will Meet:

Nov 29 – 5:15pm-6:30pm
Dec 6 – 5:15pm-6:30pm
Dec 13 – 5:15pm-6:30pm
Jan – TBD

Sunday Group will Meet:

Dec 4 – 10:45am-12:00pm
Dec 11 – 10:45am-12:00pm
Dec 18 – 10:45am-12:00pm
Jan – TBD
---
Youth Volunteer Opportunities:
There are often opportunities for youth to serve the SJN community. Here is where you can find more information and sign up to help!
---
GENERAL INFORMATION:
Please be aware that, at most of our events, mask wearing is up to the individual's discretion. Protocols may vary depending on the nature of the event.
According to Diocesan policy, cell phones and other "smart" devices (tablets, watches, etc.) are prohibited for youth during events.
During events, Angela Davis can usually be reached by call or text at her work cell at 571-306-3341. This number is NOT checked regularly except during specific events and we do not always get reliable cell service. This is not a good place to leave messages or texts except important information needing to be communicated DURING events.
Full and partial scholarships are available for most events, contact Angela to inquire.
Friends from outside the parish are often welcome, contact Angela to inquire.
If you have not already completed the "General 2022/2023 Branching Out Permission Slip" you can download it HERE! Additional paperwork may be required for some events.
---
UPCOMING EVENTS: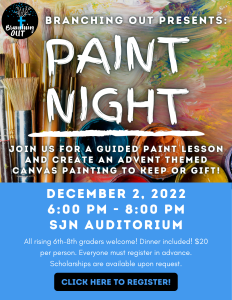 Paint Night
Joins us for dinner and a guided paint lesson. Each youth will have the opportunity to create their own Advent-themed canvas painting to bring home.
Date: December 2
Time: 6:00pm-8:00pm
Location: SJN Auditorium
Registration period: now through Nov 29
Cost: $20 (scholarships available upon request)
Who: All 6th-8th graders (Youth are encouraged to invite a friend/guest as long as the guest's parent registers them and completes the permission slip.)
What: An evening of dinner and guided painting.
Parents, register your youth HERE!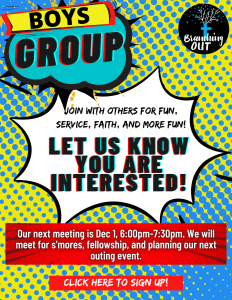 Boys Group
INFO UPDATED ON 11/28/22
Boys Group will have their next meeting
December 1st at 6:00pm-7:30pm
. Please let us know you are interested and if you plan to attend the meeting. We will begin in the parking lot with a fire and s'mores and then will head to the Treehouse Room (B6 in the basement) to plan our first outing event.
COMPLETE THE INTEREST FORM!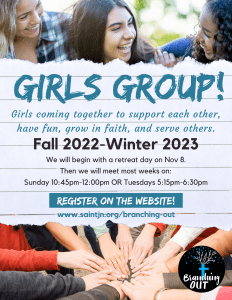 Girls Group
INFO UPDATED ON 11/28/22
We will meet regularly throughout the Fall and into early Spring to grow in faith and friendship. Girls receive frequent take-home gifts as a reminder of what was discussed in each session.
Registration Period: rolling, email Angela (adavis@saintjn.org) to join.
Dates / Times: We have a group who meets most Tuesdays 5:15pm-6:30pm and a group who meets most Sundays 10:45am-12:00pm. Specific dates are updated above and by email to the groups.
Location: SJN – Room B6 (our new Middle School Youth Room called THE TREEHOUSE)
Cost: $30 (if your family is in need of a scholarship, please just let us know)
Who: All 6th-8th graders (Friends from outside the parish are welcome but must be registered.)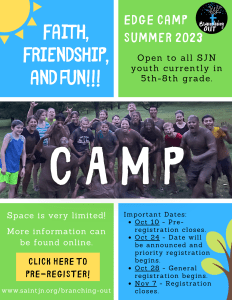 EDGE Camp – Summer 2023
INFO UPDATED ON 11/28/22
Info about Edge Camp (a LifeTeen ministry)…
Dates: July 30-August 5, 2023

Departure time on July 30 is TBD – We will likely leave very early in the morning from the SJN parking lot. This will be worked out far in advance but is somewhat dependent on numbers.
Return time will be either very late on August 5 or very very early (like 2:00am) on August 6. This will depend on many factors that cannot be determined ahead of time. We will keep you updated with our ETA along the way.

Registration Dates: Space is more limited than we expected!

Pre-registration is closed.
Priority Registration is closed.
General Registration is closed.
After

November 3

, we will begin a waiting list. Spots cannot be guaranteed. The camp fills quickly and they are reporting a higher than usual number of parish requesting space with many still on a waiting list. Email Angela (adavis@saintjn.org) to join the waiting list.

Cost: $850

$100 due at Registration
$500 ($600 total) due by Feb 15
$250 ($850 total) due by April 15
This cost includes transportation.
Some partial scholarships are available.
The actual cost of the camp and transportation is much higher than this. We are committed to keeping this experience affordable for families. If you are interested in knowing more or would like to offer a donation to assist with this cost, please contact Angela (adavis@saintjn.org).

Who: All CURRENT 5th-8th graders who are members of SJN. Space may be available for non-SJN youth upon request.
Location: Dahlonega, GA (Camp Hidden Lake)
Transportation: We will likely take a private bus (this will depend on numbers). The cost of transportation is included in the price listed above.
More information:
Chaperon

es are n

eeded! Please contact Angela (adavis@saintjn.org) if you would like to help!
Check out this recap video from our Summer 2022 EDGE Camp!
---
Check out these photos and videos from past Branching Out events:
---
EDGE Camp – August 2022
Branching Out WEEK – June 2022
EDGE Camp – August 2021
Upper Room Zoom – April/May 2021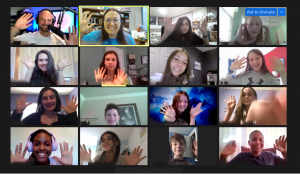 Branching Out WEEK – July 2021
JUMP Into Summer Event – June 2021
Trampoline Overnight Lock-In – February 2020
Laser Tag Overnight Lock-In – November 2019
DAY OFF – October 2019