Middle School Youth Ministry
Branching Out is the Middle School Youth Ministry program at St. John Neumann parish. Branching Out aims to provide a number of opportunities for 6th, 7th, and 8th graders to engage in service-oriented, social, and faith-growing experiences to complement the Rooted program. As we become more ROOTED in our faith, we are called to BRANCH OUT as Christ's hands in the world around us.
Please contact Angela Davis (adavis@saintjn.org) if you have any questions.
Related Links
Rooted (SJN's Middle School Faith Formation Program)?
Rooted-In-Service (our fundraising efforts to support our service projects)
---
ADULT VOLUNTEERS NEEDED
We are in need of adult chaperones and other volunteers for many of our Branching Out events, especially the walk/jog/run team and our Girls Group and Boys Group. Please consider volunteering! Email Angela Davis (
adavis@saintjn.org
) to discuss!
---
Calendar at a Glance:
This list is updated regularly so please check back often! Scroll down to register and for more information on these events.
January 21 – Black Panther Online Movie Night hosted by the SJN Racial Justice Ministry.
January 23 – Dinner and Adoration (part of the parish 40-Hour Devotional)
June 27-July 1 – Branching Out WEEK!!!
July 31-August 6 – EDGE Camp!!!
---
Youth Looking to Volunteer:
There are often opportunities for youth to serve the SJN community. Here is where you can find more information and sign up to help!
---
UPCOMING EVENTS AND INFORMATION:
Please be aware that properly worn masks and keeping a social distance of at least 3 feet are our general standards. However some protocols may vary depending on the nature of the event.
Full and partial scholarships are available for most events, contact Angela to inquire.
Friends from outside the parish are often welcome, contact Angela to inquire.
---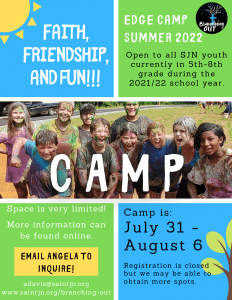 EDGE Camp – Summer 2022
SPACE IS STILL AVAILABLE!!!
Info about Edge Camp (a LifeTeen ministry)…
Dates: July 31-August 6 (2022)

Departure time on July 31 is TBD – We will likely leave very early in the morning from the SJN parking lot OR we will leave in the late evening from another location about 30 min to an hour away. This will be worked out far in advance but is somewhat dependent on numbers.
Return time will be either very late on August 6 or very very early (like 2am) on August 7. This will depend on many factors that cannot be determined ahead of time. We will keep you updated with our ETA along the way.

Registration Dates: Registration is closed. It is likely we will be able to accommodate additional youth, so please contact Angela (adavis@saintjn.org) as soon as possible if you are interested in joining us. Space is limited!
Cost: $850

$0 due for Pre-Registration
$100 due at Registration
$500 ($600 total) due by Feb 25
$250 ($850 total) due by April 25

Who: All CURRENT 5th-8th graders who are members of SJN. Space may be available for non-SJN youth upon request.
Location: Dahlonega, GA
Transportation: We will drive down in rented vehicles or take a private bus (this will depend on numbers). The cost of transportation is included in the price listed above.
More information:
Chaperon

es and/or drivers are n

eeded! Please contact Angela (adavis@saintjn.org) if you would like to help!
Parents, contact Angela (adavis@saintjn.org) if you are interested in registering your youth!
Check out this recap video from our Summer 2021 EDGE Camp!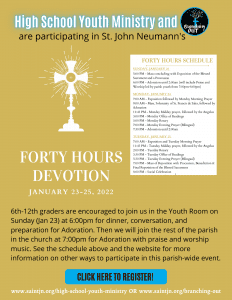 Dinner and Adoration
Our parish is doing a 40-Hour Devotion of Eucharistic Adoration! The High School Youth Ministry and Branching Out are hosting praise and worship music during one of the hours. Please join us!
Date: January 23
Time: 6:00pm-8:00pm

6:00pm – Dinner for 6th-12th Graders in the Youth Room
7:00pm – Adoration in the Church for everyone!

Where: Youth Room and then the Church
Registration Dates: CLICK HERE!
Cost: Free!
More information: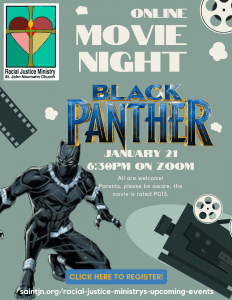 Online Movie Night: Black Panther
The SJN Racial Justice Ministry has invited families to join for their online showing of Black Panther.
Date: January 21
Time: 6:30pm
Where: Zoom
Rating: PG13; Parents, here are some resources to help determine if this movie will be appropriate for your youth:
Registration Dates: NOW through January 20th – CLICK HERE!
Cost: Free!
More information: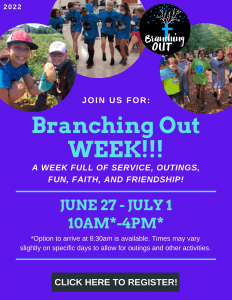 Branching Out WEEK! – Summer 2022
Join us for a week of fun, service, outings, faith, and friendship!
Dates: June 27 – July 1
Time: 10:00am-4:00pm

Participants are welcome to arrive as early as 8:30am with prior notice.
There will likely be one day when everyone must arrive earlier for a potential outing.
Friday will likely end with an ice cream social for families and friends.

Registration period: now-April 1 CLICK HERE (space may become limited)
Cost: $250 (full and partial scholarships may be available) (this cost includes all activities, fees, food, and transportation for outings)
Who: All current 5th-8th graders. (If you would like to request to invite a friend/guest from outside the parish please contact Angela at adavis@saintjn.org.)
Service Hours: Youth will complete at least 10 hours of service during Branching Out Week.
Itinerary: An official itinerary will be published closer to the event week. The week will likely include three outings, one for fun, one for faith, and one for service! We will also do activities and service at the church.
Location: SJN will be our primary location.
Transportation: We will transport to outings using a private bus service such as Chariots for Hire.
More information:
Adult volunteers n

eeded! (Teen volunteers may be needed.) Please contact Angela (adavis@saintjn.org) if you would like to help!
Check out this recap video from our Summer 2021 Branching Out WEEK!
Register HERE!
---
On Going Events and Groups:
---
Check back for updates on our ongoing events/groups later this week!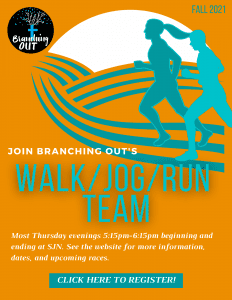 Walk/Jog/Run Team
This group will not meet for the remainder of the Fall. Check back in the early Spring for new dates!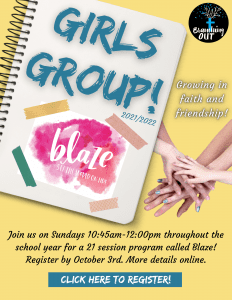 Girls Group
We meet regularly throughout the school year to grow in faith and friendship. We are using the Blaze "Belong" program. Snacks are included and each girl receives a small take-home gift as a reminder of what was discussed in each session.
Registration Period: Registration is now closed. Please email Angela to inquire about joining.
Dates: Meetings are planned for the following Sundays – 10/17, 10/24, 11/7, 11/14, 11/21, 12/5, 12/12, 1/30, 2/6, 2/13, 2/27, 3/6, 3/13, 3/20, 4/10, 4/24, 5/1, 5/8, 5/15, 5/22, 6/5
Time: 10:45am-12:00pm
Location: SJN Youth Room
Cost: $50 (scholarship discounts available upon request)
Who: All rising 6th-8th graders (Friends from outside the parish are welcome.)
Covid Protocols: At this time, masks are required (regardless of vaccination status) except while eating.
Parents, email
Angela
to inquire about available space.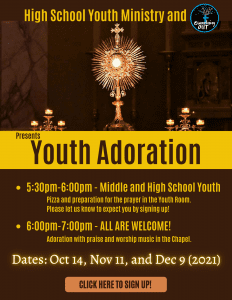 Youth Adoration
Join us for dinner and Eucharistic Adoration!
Dates: Oct 14, Nov 11, Dec 9 (More dates are being planned for the Spring.)
Time: 5:30pm-7:00pm
Location: We will meet in the Youth Room (downstairs, next to B6) for pizza and preparation at 5:30pm and then move to the Chapel around 6:00pm for Eucharistic Adoration with praise and worship music.
Registration: Sign up for the November date so that we know how many people to expect. Future sign-ups will be shared soon.
Cost: FREE! (includes pizza)
Who: All 6th-12th graders. Friends/guests from outside the parish are welcome! (Everyone should complete the sign-up so that we can order the correct amount of pizza.)
Covid Protocols: Masks are required except when eating.
Parents, sign up your youth for Nov 11 HERE!
---
Looking Ahead:
---
Here are some plans in the works for this Fall that do not yet have a flyer or further information published above:
Our parish is doing a 40-Hours Devotion in January which will include a youth focused hour of Adoration on January 23rd at 7:00pm which will like include dinner before hand.
We would love to offer a Boys Group and an alternative day/time for a Girls Group, but we need more leaders. Parents or other adults, please email Angela if you are interested or have any questions about becoming a leader.
Another Branching Out Week is planned for the summer, date TBD. We will let you know once a date is chosen and confirmed.
Other events will be added so keep a look out!
---
Check out these photos and videos from past Branching Out events:
---
Branching Out WEEK – July 2021
JUMP Into Summer Event – June 2021
Upper Room Zoom – April/May 2021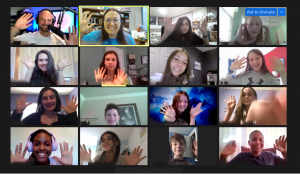 Trampoline Overnight Lock-In – February 2020
Laser Tag Overnight Lock-In – November 2019
DAY OFF – October 2019