Middle School Youth Ministry
Branching Out is the Middle School Youth Ministry program at St. John Neumann parish. Branching Out aims to provide a number of opportunities for 6th, 7th, and 8th Graders to engage in service-oriented, social, and faith growing experiences to complement the Rooted program. As we become more ROOTED in our faith, we are called to BRANCH OUT as Christ's hands in the world around us.
Please contact Angela Davis (adavis@saintjn.org) if you have any questions.
Looking for information regarding Rooted (SJN's Middle School Faith Formation Program)? – CLICK HERE!
Looking for information regarding Teen Confirmation at SJN? – CLICK HERE!
UPCOMING EVENTS AND INFORMATION:
Check out the calendar and the most recent newsletter (both linked below) for more information on upcoming events.
Please accept our apologies, the January 28th "Day Off" will not take place.
Overnight Trampoline Lock-In!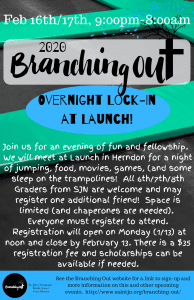 For more information and a link for registration: CLICK HERE
Check out our pictures from our November Laser Tag Overnight Lock-In with Branching Out!
Check out our pictures from our October DAY OFF with Branching Out!
Other Important Information and Links:

Branching Out T-Shirts
Branching Out t-shirts are on sale for $10. At most off-site Branching Out events, all participants will be required to wear a Branching Out t-shirt to assist with better supervision and accountability. Participants in those events may purchase one to own or may choose to borrow one for the event. Shirts can be purchased during Rooted sessions or any other time that staff is available in the Faith Formation Office.

2019/2020 Calendar
Check out the Branching Out Calendar for the 2019/2020 year! There will likely be additional events and activities planned throughout the year, but get these on your calendar for sure! (updated as of 11/25/19)