All in-person events are subject to change during the COVID-19 pandemic.
Todas las actividades en persona están sujeto a cambios durante la pandemia de COVID-19.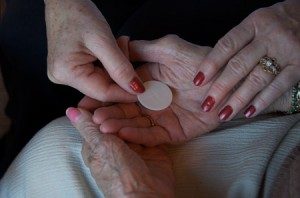 The Extraordinary Ministers of Holy Communion for the Homebound is a ministry of volunteers who visit the home- and facility-bound members of our community. On Friday mornings, ministers visit parishioners unable to attend Mass at their home, in the hospital, and in nursing homes.
If you know of someone who would like to have the Eucharist and is unable to attend Mass, please call the office at (703) 860-8510 or email info@saintjn.org to be added to the list of parishioners to be visited.
For more information about this ministry, please contact Tricia Russman at 703-860-6151 or prussman@saintjn.org.
---
Los Ministros Extraordinarios de la Sagrada Comunión para los confinados en el hogar es un ministerio de voluntarios que visitan a los miembros de nuestra comunidad que se encuentran en el hogar y en las instalaciones. Los viernes por la mañana, los ministros visitan a los feligreses que no pueden asistir a misa en su hogar, en el hospital y en los asilos de ancianos.
Si conoce a alguien a quien le gustaría tener la Eucaristía y no puede asistir a la misa, por favor llame a la oficina al (703) 860-8510 o envíe un correo electrónico a info@saintjn.org para que lo agreguen a la lista de feligreses que se visitarán.
Para obtener más información sobre este ministerio, comuníquese con Tricia Russman al 703-860-6149 o prussman@saintjn.org.