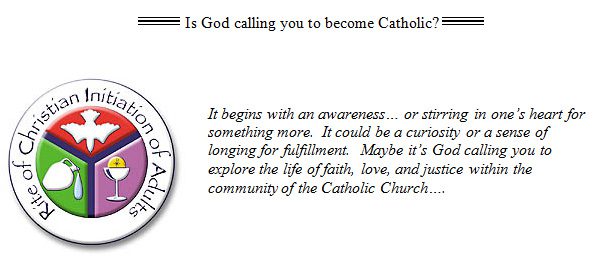 The Catholic Church always welcomes new members into its community. The Rite of Christian Initiation of Adults (RCIA) is the liturgical process in which interested adults may explore Catholicism over time in a friendly, relaxed environment and eventually enter into the Catholic faith.
RCIA is a special time set aside to grow in our understanding of ourselves and our faith, to share stories of our encounters with God, and to build community relationships. Weekly meetings provide an opportunity for prayer, discussion, and reflection. These meetings, together with the experience of worshipping with the St. John Neumann faith community, can help you find your spiritual home.
If you have any questions about RCIA or would like to schedule an informational meeting, please contact Jean Lupinacci or at 703-390-2340.
The St. John Neumann parish community invites you to grow with us as a people of faith in the Roman Catholic tradition. Come and see!