What is Stewardship?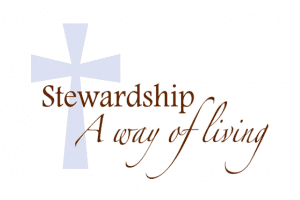 "As each one has received a gift, use it to serve one another as good stewards of God's varied grace." (1 Pt 4:10)
What identifies a steward? Safeguarding material and human resources and using them responsibly are one answer; so is generous giving of time, talent, and treasure. But being a Christian steward means more. As Christian stewards, we receive God's gifts gratefully, cultivate them responsibly, share them lovingly in justice with others, and return them with increase to the Lord.¹
The challenge, then is to understand our role – our vocation – and to respond generously to this call from God. Christ calls each of us to be stewards of our personal vocations, which we receive from God. We are obliged to be stewards of the Church, collaborators, and cooperators in the continuing redemptive work of Jesus Christ. It is the personal responsibility of each one of us as stewards of the Church to play our role in carrying out its mission.¹
This is the ultimate lesson of stewardship: that a human being is not owner but only custodian of God's gifts in this world, to use them and produce with them the fruits of eternal life.¹ We each need to prayerfully reflect on how God calls us to share our time, talents and treasure for the good of all people.
¹A Summary of the U.S. Bishops' Pastoral Letter on Stewardship
How Much of My Treasure Should I Give?
How much do you put in your envelope each Sunday? This is one of those "it depends" question and the answer is different for each of us. Perhaps our giving amount is based on what we have in our wallet, or what we think our budget allows. Before you determine your gift amount prayer fully consider that weekly collections are the lifeblood of the parish. The primary source of funds for the Parish is collection income. Collections are used to support all facets of running the Parish including paying for daily operations, saving for future projects, and meeting the needs of the local Reston and Herndon community.
Weekly collections support everything we do including maintaining the facility and property, supporting the clergy, staff salary and benefits, supporting all the many, many ministries and programs provided by the parish. Plus, we must be vigilant and ensure that we are saving the appropriate amount of funds for future capital projects and any unexpected repairs.
How is My Treasure Used?
Stewardship applies not just to the giver of gifts, but to the recipient as well. The St. John Neumann staff and leadership try to be the best stewards of the generous gifts received from our donors. The management of daily financial matters and operational accounting is handled by trained professional staff employed by the Parish. The Finance Council provides advice and counsel to our pastor about the financial aspects of the operation of the parish in keeping with the church's code of Canon Law.
Charitable collections and activities throughout the year help support:
Annual Hypothermia Shelter
Brown Bag Sunday food donations for Cornerstone Food Bank
Backpacks for the Kids R First Drive
Birthday Club gifts for children at the Laurel Learning Center
Christmas gifts for the needy
Thanksgiving baskets for local families
Shelter meals prepared and delivered to three local shelters
Samaritans – work with individuals trying to break the cycle of poverty by providing personal finance mentoring as well as assistance to work through a financial crisis. Working with local groups and the Fairfax County, State, and Federal assistance programs, we feed, clothe, house, and educate those in need.