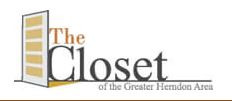 The Closet is a nonprofit thrift shop in the heart of historic downtown Herndon.
The Closet was founded in 1974 by a handful of churches to assist low-income families by selling used clothing at a nominal price. Over the years, our mission has expanded and we have become a significant resource for the greater Herndon area. We continue to be a source of low-cost clothing and household necessities for those on a tight budget. We also give away clothing to truly needy individuals and use our profits to support worthwhile community programs. Items we are unable to sell are donated to needy communities in the western part of the state.
The Closet sells a wide variety of donated items, including clothes and shoes; housewares such as dishes, kitchenware and linens; electronics; sporting goods; books, videos, cd's and record albums; artwork and frames; toys; and knickknacks.
We have a number of parishioners who support the Closet by volunteering their time to work at the thrift shop.
Donations of clothing and household items are always appreciated you can drop them off Monday through Saturday from 8:00 AM through  2:00 PM.
To volunteer please contact Jo-Ann Duggan at (703) 860-6149 or jduggan@saintjn.org for further information.