The mission of the Pro-Life Ministry is to acquaint members of the St. John Neumann  Community with issues confirming the sanctity of all human life from conception to natural death and to encourage involvement in promoting human dignity.
For further information on the Pro-Life ministry please contact Bill Eager at  artbyeager@gmail.com.
Monthly Events
Monthly Prayer and Protest – held at the abortion clinic in the Falls Church Healthcare Center Building at 900 S. Washington St., Falls Church, VA.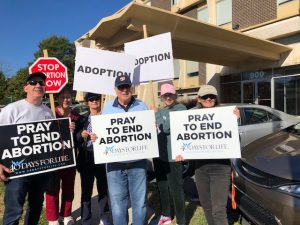 Monthly meeting of the Pro-Life Group is held at St. John Neumann Church on the third Thursday of the month at 7:00pm.
Other Supported Events
January – Annual March for Life in D. C. near the anniversary of Roe vs Wade. This year the March for Life is Jan 24.
May – Mother's Day Weekend we make and sell carnation corsages with the profits going to a pro life cause.
October – Respect Life Month & National Downs Syndrome Month
Each October the Church in the United States celebrates Respect Life Month, and designates its first Sunday as a day of Respect for Life. As Catholics, we are called to cherish, defend, and protect the vulnerable. In our first reading, we hear a voice crying out to God in anguish. We too can feel such misery as abortion, assisted suicide, the death penalty, and other affronts to human dignity find wide public support. But as our responsorial psalm reminds us, we must seek a softening of hearts.  We must pray that those whose hearts have been hardened will hear God's voice and come to see the invaluable dignity of every person. We must also pray that our own hearts be open to the suffering of the most vulnerable.
In the second reading, St. Paul tells us that "God did not give us a spirit of cowardice," and "that we not be ashamed of your testimony to our Lord." In a world often hostile to the Truth, proclaiming the Church's teaching on topics such as abortion, assisted suicide, and the death penalty can provoke emotional responses from those who disagree. But as Paul also reminds us, God has given us a spirit of "power and love." This should cast out our fear of defending life and lead us to approach those who disagree with us in a spirit of charity. Finally, the example of the apostles in the Gospel reminds us that we struggle to find the courage to speak boldly about human life, we shouldn't be ashamed. The apostles—who themselves lived, ate, and prayed with Christ—needed God's grace to carry out Christ's saving mission. (taken from usccb.org)
November 23 is National Adoption Day
---
---
Thinking of Adopting?
Deciding to adopt is the first big step.  Figuring out where to go from there can feel overwhelming.  Whether you are planning to adopt an infant from the United States or want to explore your options around the world, Catholic Charities can help you figure it out.  We offer options  for private adoption, infant adoption,  interstate adoption, international adoption, and foster care adoption.
The Pregnancy and Adoption Support services of Catholic Charities are a proud licensed child placement agency with exceptional staff that values you and your needs.  Many of our fees are based on a sliding scale to ensure that finances are not a barrier to adopting.  Our fees are all inclusive and our services are for a lifetime.
Information Meetings at 7p.m.
These meetings are for new families who are interested in learning more about our adoption programs and home study process.  The prospective adoptive family needs to reside in the Diocese of Arlington.  Space is limited, please RSVP by emailing adoptinfo@ccda.net.  There is no cost to attend an information session.
If you are unable to make the pre-scheduled information sessions or if you'd like to meet with a worker privately to discuss your options regarding adoption, please contact us to schedule an adoption consultation.  The fee for this service is $50 which will be credited towards your application fee if you apply to our program.
Meeting Dates:
June 13, 2019
September 13, 2019
October 13, 2019
November 7, 2019
December 12, 2019 
---
---
I'm Pregnant
If you are pregnant and weren't planning to be, we can help.
At a time like this  it's easy to feel alone, confused and overwhelmed.  Feelings of fear, panic and anxiety are normal.  There is so much to think about and so many things to figure out.  You have choices and we would like to help you make a good plan for you and your baby.  Our counselors here at Catholic Charities will walk beside you on this journey.  We can help you. Don't spend another day figuring this out alone.  Call us at 703-425-0100.
If you are pregnant and would like to get more information about making an adoption plan for your child, please call or text our 24/7 on call line 703-943-0129 to speak with an adoption counselor.
If you are in need of items for your baby, please call 703-425-0100 to schedule an appointment for any Thursday between 10:00 and 11:30 a.m. for our baby closet.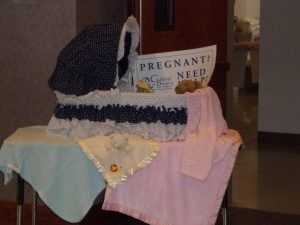 Gabriel Project
Gabriel Project has many amazing mentors with lots of experience not only in raising children but also in living a life firmly rooted in Christ.  Our mentors are happy to come and welcome you into the community and help you during this time of transition.  So, whether you're a brand new mom or a mom looking for support because you are new to the area, contact Gabriel Project at (703) 841-3810 or at GabrielProject@arlingtondiocese.org.
---
Post Abortion Healing
A post-abortion healing ministry open to anyone who seeks healing after abortion. We want to reach out to you with the mercy and love of Christ and help you be at peace with yourself and God.
For further information on this diocesan ministry please email ProjectRachel@arlingtondiocese.org or click here.