To help our Faith Formation programs fruitfully and effectively share the Faith with our children, we need many volunteers! There are many different volunteers roles with our classes, something to best use everyone's gifts and charisms!
Children's Faith Formation
To learn more about volunteering with SJN's preK-5th grade traditional classroom model of faith formation, check out our "Be a Catechist!" brochure. Children's faith formation classes meet weekly at one of three different session times: Sundays from 8:45 am – 10:00 am, Sundays from 10:45 am -12:00 pm, or Tuesdays from 5:15 – 6:30 pm. Many volunteers serve as lead catechists, leading one grade's weekly class lessons, using the textbooks and catechist guides provided by St. John Neumann staff. Other volunteers serve as class assistants, aiding the class's catechist by handing out materials to the children, helping children participate in classroom activities, and managing children's classroom behavior. Only adults can serve as lead catechists, while teenagers can serve as class assistants. Other volunteers are needed as session coordinators, who assist from the Faith Formation Office during classes, taking attendance, providing updates for catechists, helping with first aid, and other tasks during class. Volunteers are also needed to sign up as substitute catechists, to be available to fill in for catechists, usually with more than a week of notice. Substitutes are given lesson plans and materials in advance of any substitute classes.
Complete this online volunteer interest survey for Children's Faith Formation volunteering, or contact Thomas Patchan at tpatchan@saintjn.org or 703-860-6156.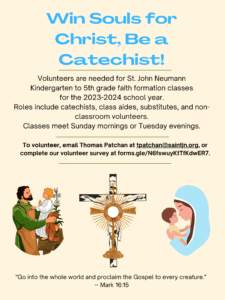 Rooted
The Rooted program at SJN is SJN's middle school (6th-8th grade) faith formation program. To learn more about the program, click here.
Sign up here to volunteer with the Rooted Program or contact Angela Davis at adavis@saintjn.org.
High School Youth Ministry
Our high school (9-12th grade) youth ministry is in need of volunteers for the following events:
Weekend youth group (on-going volunteer)
Chaperones for retreats, day trips, etc (one-time volunteer)
Salesian Mass (on-going or one-time volunteer)
Service events, such as Work Camp (on-going or one-time volunteer, depending on event)
For more information or to volunteer, contact Eric Muñoz at emunoz@saintjn.org or 703-860-6141.
Adapted Religious Education (ARE)
The ARE program at SJN is for elementary-age to adult parishioners. To learn more about the program, visit the ARE page.
For more information or to volunteer, contact George Dellagiarino at della1234@comcast.net or 703-476-4078.
Office Help
There is often much to do in the background at the Faith Formation Office, especially at the start of the school year! If you are interested in helping during office hours (Monday through Friday, 9 a.m. to 4 p.m.), contact Silvia Bustamante at sbustamante@saintjn.org or 703-390-2348.
Requirements
All adults who wish to volunteer with the Faith Formation Office must be Child Protect compliant. The Diocese of Arlington requires all adult volunteers who work with children and teens to complete a background check and VIRTUS training provided by the Diocese of Arlington.
Can teens and college-age young adults help out?
Absolutely! Teens and college-age young adults (especially those who have previously been or currently in a faith formation program at SJN) are welcome to help out with a grade at least four years below their current age. (For example: If a 10th grader would like to be a catechist, he or she can volunteer with 6th grade and below.)  Only those 18 and over need to be Child Protect compliant (see above).