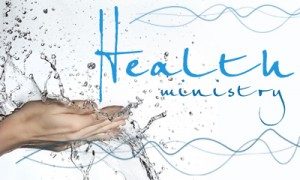 The St. John Neumann Health Ministry roots began in 2006 conceived by two nurse parishioners.  It has expanded to include active and retired professionals from many diverse health specialties such as physicians, nurses, social workers, nutritionists, therapists, and those simply interested in promoting a healthy faith community. Our goal is to support the physical and spiritual health and wellness of St. John Neumann parishioners by offering educational opportunities in a variety of formats such as monthly blood pressure screenings, evening group presentations, bulletin board and community resources, bulletin articles, and health promotional activities.  The St. John Neumann Health Ministry meets monthly and always welcomes new members who bring energy and creativity to help support a holistic and healthy faith community!
St. John Neumann Parish Nurse:  In late 2012, SJN welcomed a part-time Parish Nurse to our staff.  Susan Infeld RN BSN FCN supports our Pastoral care team by extending the reach of spiritual care to include health and wellness promotion, disease prevention, health education, and guidance. The Parish Nurse offers prayerful support with visits to the sick and homebound, consultant services for dementia issues, hospice and palliative care and other diverse medical concerns. She supports as health navigator and advocate as well as a trusted referral resource for our faith community.  Service is confidential.  The Parish Nurse does NOT offer clinical, hands-on physician-directed care and does NOT take the place of your health care provider.
For further information regarding the health ministry please contact our Parish Nurse, sinfeld@saintjn.org  or  (703) 390-2349.