All in-person events are subject to change during the COVID-19 pandemic.
50+ members have passed their 50th birthday!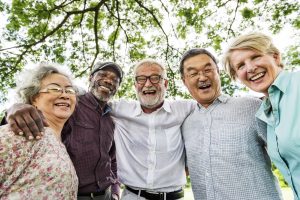 This group provides opportunities for religious, cultural, and social activities, with an emphasis on having a good time.
Details regarding upcoming events are listed in the bulletin column "Ongoing Fellowship at SJN" each week. Additionally, 50+ members sponsor coffee and cookies after daily Mass in the Social Room.
For further information, contact Carol Raphael at drcarol@gmail.com.
Events in the community
The Shepherd's Center, serving Oakton-Vienna-Reston-Herndon, has announced its fall 2020 Adventures in Learning (AIL) classes for adults 50+. Due to the pandemic, all AIL classes will be held via Zoom. Registration is from Sept. 1-22 and one tuition payment ($45) covers any classes during the term. Learn more, including the class schedule, at scov.org/ail.