All Saints Church (Manassas, VA) has again invited our parishioners to participate in their multi-car raffle. Prizes include
four 2022 vehicles from Koons of Manassas (Honda Civic, Buick Encore, GMC Canyon Truck Extended Cab model, and a Honda Odyssey Mini Van) will be raffled off in four separate drawings to be conducted at All Saints on April 30, 2022. Each $5.00 ticket offers the purchaser a chance to win all four cars plus $40,000 in cash drawings. ticket returns are being processed at All Saints again this year. This is required by the Department of Charitable Gaming. The raffle continues to benefit our parish and many charitable causes throughout the diocese, as it has in the past. We hope that you will support our efforts by buying or selling your tickets. Please make your checks payable to All Saints. The raffle will take place on April 30, 2022 at All Saints Catholic Church, 9300 Stonewall Rd., Manassas. You need not be present to win.
The causes that will be supported by the raffle here at SJN are:
1. Our sister parish in Manta, Ecuador, Niño Jesús.
2. The MaRiH Center, a Pro-Life organization in D.C.
3. The SJN Shelter Meals Program.
4. "Water with Blessings"
Tickets will also be available for sale after all weekend Masses. If you should have any questions about the raffle, please contact Mary Beth Morrow at mb_morrow@msn.com.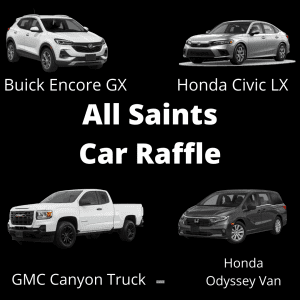 *Please note that the photographs are representations of the vehicles being raffled, but are not pictures of the actual vehicles themselves.