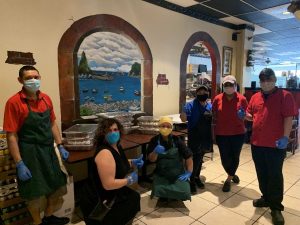 The unusual times of the coronavirus pandemic require novel solutions to provide food to our local brothers and sisters in need. Please continue to support the Shelter Meal Program sponsored by St. John Neumann.
Thank you to the many generous donors who have financed meals to local shelters through local restaurants from August 2020 through March 2021. The staff and clients at the shelters as well as the staff and management of the local restaurants strongly appreciate the program. We are especially grateful that the Shelter Meal Program was the recipient of a grant from Catholic Charities in honor of parishioner Lenny Mathey (1986 – 2020).
This program will continue through at least June 2021 when we will re-assess the needs at the shelters. Until then, three meals a month will be prepared and delivered by a local restaurant to local shelters.
If you can contribute again or contribute for the first time, please consider supporting the program with a financial donation through SJN. You can donate online at onrealm.org/StJohnNeumannCa/give/ShelterMeals.
Thank you for being a part of this effort. We hope every donor feels a sense of solidarity and satisfaction in being a part of the Shelter Meal Program at SJN.
The following meals have been provided from August to October 2020: