From time to time, SJN Parishioners have received e-mails purporting to be from Father Joe, one of our other Oblate Priests, or SJN Staff. Please note that unless the e-mail ends in @saintjn.org, it is fraudulent. A fraudulent e-mail will end in @gmail.com, @aol.com, etc. Remember, always double-check the address' end to determine if it is valid or not—if it is from one of us here at SJN, it will always say @saintjn.org."
Additionally, neither our Oblate Priests or our staff will ever send you an e-mail requesting you purchase Amazon or Apple gift cards or other types of gift cards or products for us.
So, in review. If you receive an e-mail that doesn't end in @saintjn.org and it's asking you to purchase gift cards, or other products, it's fraudulent. Please add it to your blocked list through your e-mail provider.
If you should have any questions about this ongoing scam, contact dhyland@saintjn.org.
To learn more about phishing in general and the steps you can take to protect yourself and your family from these types of scams, click here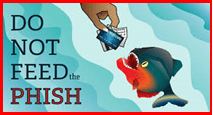 .