The Oblates trace their roots to the dream of St. Francis de Sales.
It was a dream born of a conviction – that all people, of every social stratum, of every position, of every job, talent, or condition were called to holiness. St. Francis de Sales did it by his preaching, his teaching, and by his writings.
He wanted to found an order that would be dedicated to carrying on this work after his death, but he died without seeing this dream fulfilled. It was years later in 1873, Father Louis Brisson founded the Oblates for the sole purpose of spreading the spirit and doctrine ("the dream") of St. Francis de Sales.
Fr. Brisson sent the first Oblate to White Plains, New York, in 1893. From that time on the Oblates gradually spread throughout North America while at the same time expanding throughout Europe, Africa, South America, and India.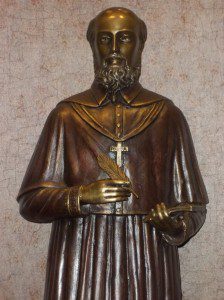 In the United States, they have worked in every apostolate where a need was manifested. They opened schools, staffed parishes, established retreat houses, and built summer camps. At the same time, the Oblates have witnessed their Christian faith by living and working in the inner-city neighborhoods and serving as chaplains in hospitals, prisons, on college campuses and as military chaplains.
The Oblates first came to Virginia in 1956 when then-Bishop Russell of Richmond asked the Oblates to staff Our Lady of Good Counsel parish in Vienna.  In 1964, Bishop Ireton High School was opened and began operation under the direction of the Oblates. Four years after the Oblates took over St. John Neumann parish, Bishop Welsh asked them to open and staff another high school named Paul VI.
The Oblates' presence in this diocese keeps alive the dream of St. Francis de Sales – to teach and preach the word of God – and to help people to know God by means of the gentle Salesian spirituality.
For further information regarding the Oblates of St Francis de Sales go to http://www.oblates.us/