Each year the Social Justice ministry hosts a Fair Trade sale.  It is usually held on the first Sunday in Advent, but be sure to check our Bulletin or Narthex Screen for the actual date. You are encouraged to visit the sale as we approach the Christmas season.
This year, we will continue to offer a selection of items from the SERRV catalog.  "Work of Human Hands", including baskets, ceramics, ornaments and of course, Divine Chocolate. We also provide a variety of Fair Trade certified products (clothing, ceramics, and accessories) from other Fair Trade vendors, including jewelry from very highly skilled craftsmen.
You are encouraged to buy Fair Trade products like coffee, tea, and chocolate in a variety of stores in our area, including Trader Joe's, Costco, Whole Foods, Harris Teeter, and Fair Trade Winds.  Just look for the Fair Trade Certified Seal!
What is Fair Trade?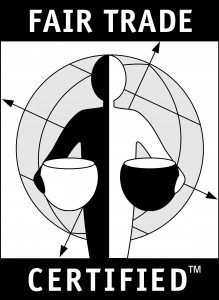 Fair trade is an approach to business and to development based on dialogue, transparency, and respect that seeks to create greater equity in the international trading system.
Fair trade supports farmers and craftspeople in developing countries who are socially and economically marginalized. These producers lack economic opportunity and often face steep hurdles in finding markets and customers for their goods.
Fair trade is much more than just trade. At the core of the fair trade model is a direct, cooperative, and in-depth relationship between buyers and sellers that keeps all of the principles of fair trade at the forefront.
What Does That Really Mean?
Fair Trade is about making a tremendous impact on artisan and farmer communities while offering great products to the public.
Fairly traded clothing, coffee, food, furniture, home decor, housewares, jewelry, tea, toys, personal accessories, and many other products are available from Fair Trade Organizations. Communities are improved; nutritional needs met; health care costs are covered; the poor, especially women, are empowered; the environmental impact of production, sourcing, and transport is mitigated to the fullest extent possible. Such an impact is created because Fair Trade approaches development as a holistic process.
Who is the Fair Trade Federation?
Fair Trade Federation members are fully committed to Fair Trade. They have dedicated their businesses to create positive change for the poorest of the poor. This means that fair trade is at the core of every business decision they make.
By selling their products in North America, Fair Trade Federation members are improving the lives of artisans and farmers around the globe. For further information regarding Fair Trade Federation: http://www.fairtradefederation.org/.