Fall Salesian Retreat
Celebrating Advent with Francis de Sales and John the Baptist
A Salesian Approach to Growing in Holiness, Health and Happiness    
When:      November 16, 2019
Where:     Saint John Neumann Catholic Community
                  11900 Lawyers Road
                  Reston, VA 20191
Coffee:     8:30 AM – 9:30 AM
Retreat:    9:30 AM – 11:30 AM
Mass:       11:30 AM – 12:30 PM
Fee:        No charge – free will offerings are encouraged
The year-end holidays often distract us and cause much stress and anxiety. Seen through the lens of Salesian spirituality and our contemporary lived experience, this retreat is designed to help participants to focus their attention on the areas of their life and the larger world where they can make a positive difference.
This morning program offers the opportunity for participants to gather together in faith, fellowship and worship as a Gospel-centered community rooted in the Salesian tradition.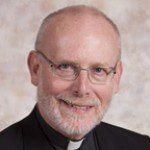 Rev. Don Heet, OSFS is the Parochial Vicar at Saint John Neumann.
In addition to parish ministry, Father Don has served in many roles and
Oblate ministries including teacher, principal, and vocation director.