Kathy Dallessandro, Director
Anne Hanover, Assistant Director
Email: preschool@saintjn.org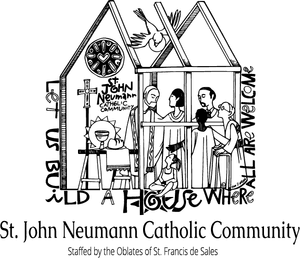 Mission and Philosophy
The role of the St. John Neumann Preschool is to serve as a ministry to the Parish Community by working closely with families to build strong connections to their faith and church community. The St. John Neumann Preschool will operate under the direction of the Arlington Diocese Office of Catholic Schools. It will follow the Virginia Catholic Education Association's guidelines for Early Education Programs and
it will be licensed by the Commonwealth of Virginia. We will provide a loving and nurturing environment in which Catholic values are taught and integrated into the daily life of our young students. We strive to help form and develop each individual's God-given gifts by providing a developmentally appropriate, Christ-centered environment, where children learn through play and interaction with peers and teachers.
A Catholic early childhood program develops a love of Jesus and knowledge of the presence of God in the lives of the children it serves. Within a Christian community, they learn to appreciate and act on the values of kindness, love, joy, and concern. A growing and learning experience is provided in a Christian community – beginning with the home and extending to the school – which helps the children relate positively to the world around them.
-Virginia Catholic Education Association Childhood Philosophy
Informacion de Preescolar en Español
For Preschool information in Spanish, please click here.
Para informacion de preescolar en espanol, por favor haga clic aqui.