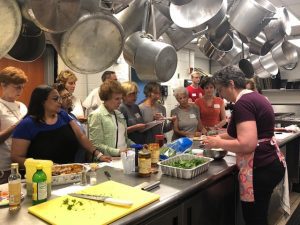 Join us for our monthly cooking class after you have been to the Wednesday Farmer's Market (May-November, 3-7pm in SJN's lower parking lot). Watch step-by-step directions as the cooking instructor and parishioner, Reggie Morrone, makes delicious creations with food you can purchase at the Farmer's Market! All are welcome!
The next Farmer's Market Cooking Class will be Wednesday, November 20th at 5pm in the St. John Neumann kitchen.
For questions, contact Jo-Ann Duggan, at jduggan@saintjn.org.
If you would like more information on the Wednesday Farmer's Market, check out their website and their Facebook page.