Please join us on Saturday, October 1, for our parish Prayer Vigil for Peace, Life, and Justice, via Zoom. We'll mark Respect Life Month by praying for the abolition of the death penalty (Pope Francis's prayer intention for September) and an end to all other threats to human life and dignity. The vigil is from 4:00pm to 4:40pm via Zoom. We'll pray the Scriptural Rosary for Justice and Peace, reflect on God's Word in Scripture, and offer our intentions to our merciful Savior. For more information or the Zoom link, contact Ken Fredgren at fredgren.k@gmail.com or Bob More at rmore.paxchristi@gmail.com.
Vigilia mensual de oración – El próximo sábado 1 de octubre
Por favor, únase a nosotros el sábado 1 de octubre para nuestra Vigilia de Oración parroquial por la Paz, la Vida y la Justicia, vía Zoom. Marcaremos el Mes del Respeto a la Vida rezando por la abolición de la pena de muerte (la intención de oración del Papa Francisco para septiembre) y el fin de todas las demás amenazas a la vida y la dignidad humanas. La vigilia será de las 16:00 a las 16:40 vía Zoom. Rezaremos el Rosario Bíblico por la Justicia y la Paz, reflexionaremos sobre la Palabra de Dios en las Escrituras y ofreceremos nuestras intenciones a nuestro misericordioso Salvador. Para más información o el enlace de Zoom, contacta con Ken Fredgren en fredgren.k@gmail.com o Bob More en rmore.paxchristi@gmail.com.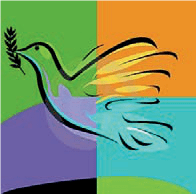 .